This pattern is relativley easy to follow, and the results are so, so cute! The great part about it is, it all depends on the fabric you choose! This pattern, is SO up there with my "To Sew" List. It's called the "Chickadee". How cute is that? It features flutter sleeves, a sloped hem, and a cute scoop neck! Here's the URL:
http://www.burdastyle.com/patterns/chickadee
And, as usual the finished pics, all accredited to the website above.
The captions are the finished pieces Burdastyle User Names.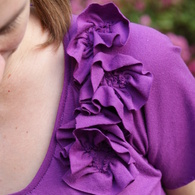 This BurdaStyle User, Maldrich, even added cute floral details to the neckline!